by Jonathan Favre-Godal and Théo Rivière
illustrated by Magali Aude and Raphaël Samakh
Released on december 2022

Fragments is a game where you create stories of which you are the heroes.
Immerse yourself in the world of the OUTSPHERE saga from Guy-Roger Duvert.
Draw from your imagination, discover the secrets of Eden, the planet that should host humanity.
A narrative role playing game without any game master nor preparation.
More accessible than the first FRAGMENTS game and evolutive with envelopes to open.
Each game will be unique.

It is not required to know the book to play the game.
The ship went through space in dead silence. It went, smoothly, through skies that no human had explored before. Its hull, of a metallised brown, was in a perfect state.
The passageways were soaked in a cold and freezing silence. Suddenly, the metal and glass cylinders started shaking and the powerful lights installed on the ceilings, turned on. You emerge from your cryo-sleep as the Arche stops in front of Eden.
Embody the characters from the OUTSPHERE saga and live an adventure full of twists through 5 secret envelopes to unlock.

Each turn, pick a Word card and tell a fragment of the story. The Symbol-Icon match will change your adventure in a good or a bad way.

Your mission: create OUTSPHERE and save Humanity.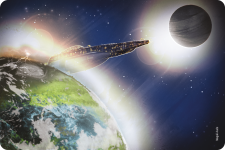 1 card WHERE IT ALL BEGAN (120x80mm)


8 Character cards
 (54x80mm)


2 Vicissitude cards (54x80mm)




6 Intervention and Step cards (54x80mm)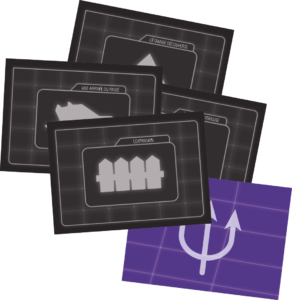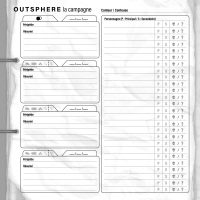 4 avenue de Washington
38100 Grenoble – France