By Corentin Lebrat and Ludovic Maublanc illustrated by Valériane Holley


Welcome to Bingo Island! You are islanders and your island abounds with fabulous wealth. Cultivate the soil , persuade your friends, the animals to join you and find precious treasures. But beware of the crabs!
In this family game for aged 6 and over, develop your island, make friends with the animals, each as cute as can be, and go treasure hunting while avoiding the crabs !
You play as an islander. On your little island, you have to grow resources and harvest them, make friends with the animals and go treasure hunting.

On your turn, spin the wheel, put a resource in your field. Shout «  »BINGO ! » » when you have filled a line or a column. Gather equipement and make friends with the animals to go treasure hunting. And finally, seek for the treasures full of gold coins in the sand. But beware of the crabs !

As soon as an islander owns 4 treasures, the game is over. The islander with the most gold coins wins the game
4 Island recto boards
1 Dock board
1 Compass wheel with its plastic arrow
4 Friendship medals
23 Animal tiles
16 Treasure tokens (4 of each shape/value)
64 Resources tokens
24 Equipment tokens
1 cloth bag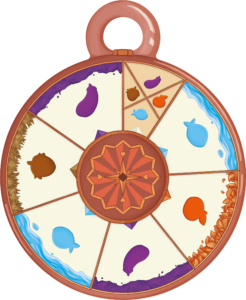 1 Compass wheel with its plastic arrow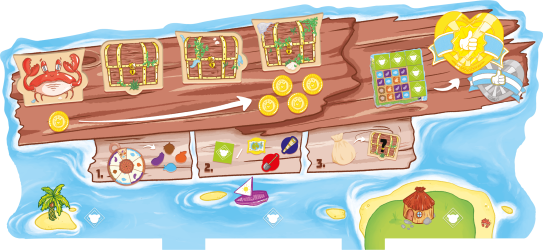 4 avenue de Washington
38100 Grenoble – France